Avoid the Five Biggest Mistakes in Estate Planning – And Save Thousands of Dollars in Legal Fees, Probate and Taxes
Authored By Attorney Richard Behlmann 
Book Details
Learn what you need and avoid estate planning mistakes. This book, from nationally known estate planning attorney Richard Behlmann, discusses subjects most of us would rather avoid: Death, disability and taxes. Many believe that on their death, their family will carry out their wishes and everything will be fine even without a plan of any kind. The truth is that without a plan:
Your estate could go to the wrong people
Your children could be without resources
The government, using your money, will protect your heirs, creating excessive attorney's fees, extra court costs and unnecessary delays in passing on your property
You could pay estate taxes and income taxes at combined rates of 75% or more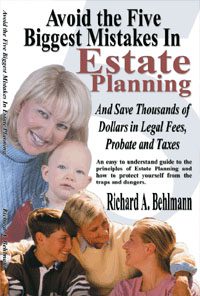 If you would like to purchase a copy of "Avoid the Five Biggest Mistakes in Estate Planning – And Save Thousands of Dollars in Legal Fees, Probate and Taxes" please complete the information on our Contact Us page. Put the title of the book in the "your message" field, print the page, press the submit button, and mail it with a check in the amount of $12.95 (includes shipping) to: The Behlmann Law Firm, LP, Attn: Book Orders, 21218 Kingsland Blvd. Katy, TX 77450. You may also call our office at (281) 398-0088 and order with a credit card over the phone. Please allow 3-5 weeks for delivery after payment is received.